Since legal marketing is unique, our team uses only compliant and source-approved media such as PPC, TV, radio or social media. Our team of experts has decades of experience buying media and acquiring leads. We use that experience to obtain the most satisfactory results for our clients so they can expand their businesses, focus on their core, grow their client base and achieve greater revenue. Our team handles every aspect of the advertising process: ad development, analytics, optimization, script writing, media placement, and intake.
We benefit from the latest technology for tracking and gathering statistical data, which eases our work to a tremendous extent. This also greatly helps our clients, as their workload is significantly reduced and simplified.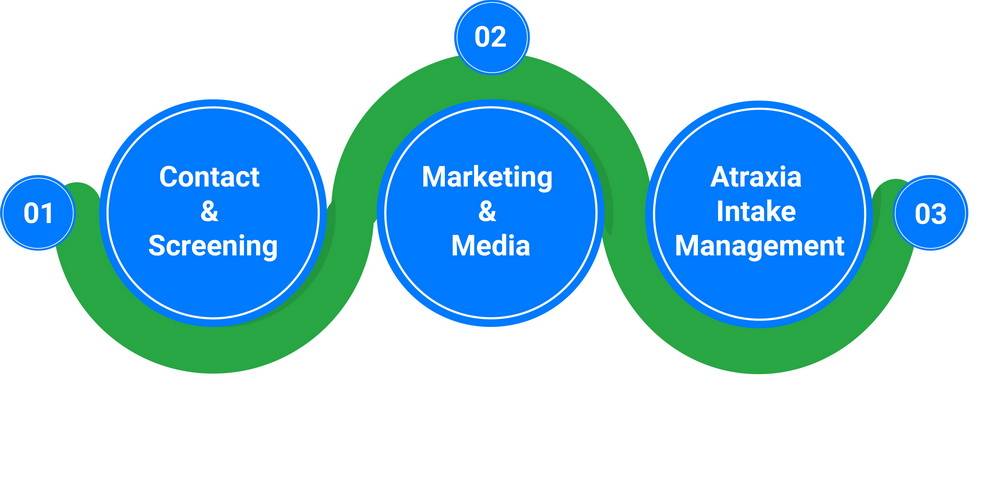 Our team gladly invests time and energy in taking the heavy burden off the shoulders of attorneys, who are often extremely busy and even overwhelmed by the amount of workload they have to handle and also by the effort they have to put into pursuing every case. We provide excellent assistance with selecting which leads are suitable for the law firm we are collaborating with, vetting cases and gathering evidence to support the validity of a lawsuit.
By virtue of the Atraxia Intake Management System (AIMS), we combine advertising, first contact and screening operations for each law firm which requests our assistance. This way, our work is simplified and completed in a much more efficient manner. Handling mass tort intake must be simple, effective and flexible, as it involves a high volume of work.